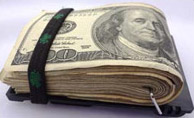 The Dough Holder is shown here holding $7,500. If you need to carry more cash than that, have your Supermodel girlfriend carry it in her briefcase…
The Dough Holder is perfect for carrying just enough cash and credit cards without having to take your billfold along with you. And it's only the size of a package of gum.
The Dough Holder will carry two credit cards, an ATM card, a few business cards and also stores your drivers' license so it can be seen without removing it from the Dough Holder.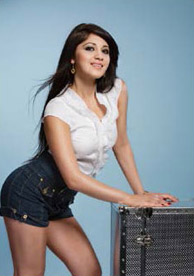 The Deluxe Dough Holder will carry all that plus an additional four credit or ID cards.
The Dough Holder comes with three stainless steel arms so that it is perfect for almost any amount of cash. Whether you are anxiously awaiting your next paycheck, have enough cash for a fun night out, or if you just busted the biggest poker game in town!
The Dough Holder is perfect for:
Poker Players
Ladies going out on the town with Skinny Jeans and no purse
Boaters and water enthusiasts who can't get their billfold wet
Anyone who prefers a front pocket wallet
Your credit cards and cash are held in place with a silicone band which comes in several styles. If you need a custom band order just email us and we will give you a quote.
Designed, Molded and Assembled in the

USA!